From Colombia to La Sorbonne University
In July 2015 in Colombia I was asked to make a presentation on environment and to detail my personal experiences to a group of 200 young people between 15 and 25 coming from all over the world. It was 9:30 pm, it was the 5th day of the event, a day as intensive as the previous days, full of retreats workshops and late nights. How to succeed in getting their attention? I felt it was an impossible task.
I understood that there was only one thing for me to do: try to innovate. Innovate to make them want listen to me. Therefore I started my presentation asking a simple question:
What makes you happy in your daily life?
For each answer I had a Facebook picture I had ingeniously stolen from the audience members' personal pages (thanks Marc Zuckerberg) and a comment such as :
"This nature which we are living in, we vitally need it –  a human body it's finally more batteries than human cells (billions!) […] In one drop of ocean water you can see on those pictures there are billions of viruses & bacteria" or "50% of active molecules we have today in pharmacy are extracted or synthesized from natural products. We will seek 25,000 molecules of this biological diversity in sea animals or plants apparently without interest. For example 30% of the anticancer, antiviral, immune boosters molecules come from marine sponges. (Speech from Gilles BOEUF, president of the National Museum of Natural History)."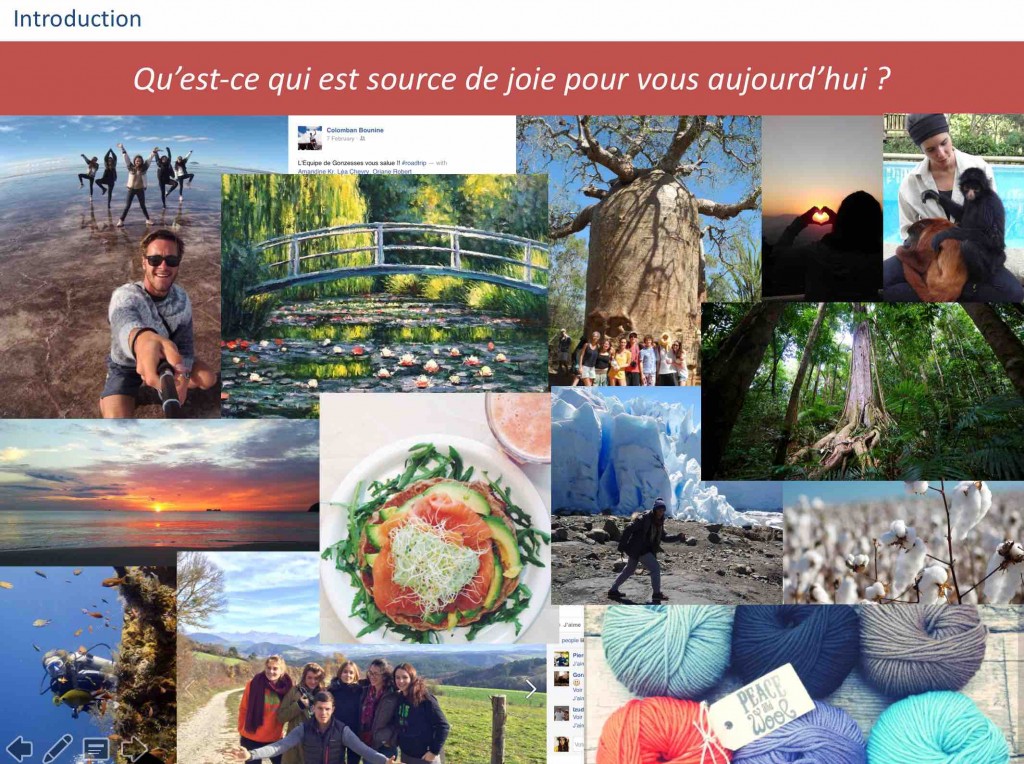 Final conclusion: my young audience finally understood that most of the moments that contribute to our well-being, most of things that contribute to our well-being, are intimately related to what we call biodiversity.
They were finally ready to listen to my presentation which was divided as follows:
Where are we from?

What is our story on earth? How is it possible that what happened billions years ago can still determine our survival today? How did we get to the 6th big extinction crisis of species?

What are the multifarious sources of that crisis?

How should we understand the link between our daily actions and the current challenges (migration, disappearance of the fishing stocks, impoverishment of the soil and of the quality of the aliments, loss of biodiversity etc.)?

What are the solutions?

How, working on oneselves, we can be powerfull agents of change at any scale (within the family, within its town, territory, firm, until global scale)? How to conveice people to be responsible and caring towards the world around them?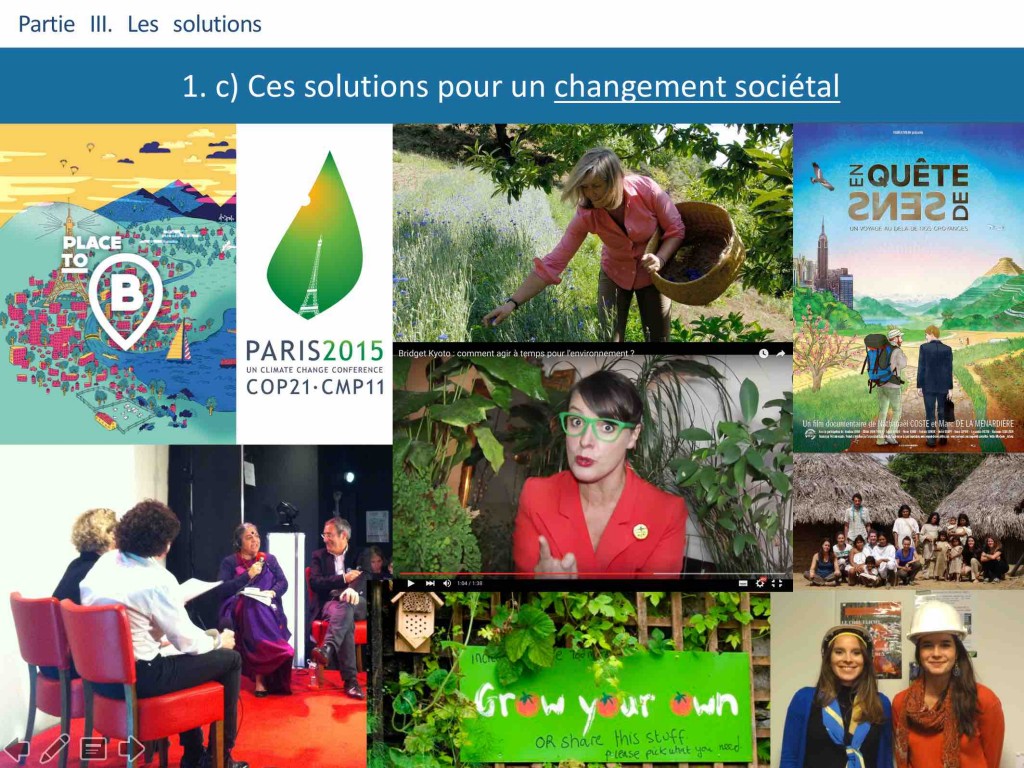 On January 8th, I started over but that time with an "ecological" audience, already aware of those challenges: I was giving a class to the students of the Master 2 BIOTERRE, "Biodiversity, Territories, Environment, (Paris I Panthéon – Sorbonne University). I had 3 hours to help them improve their environmental awareness.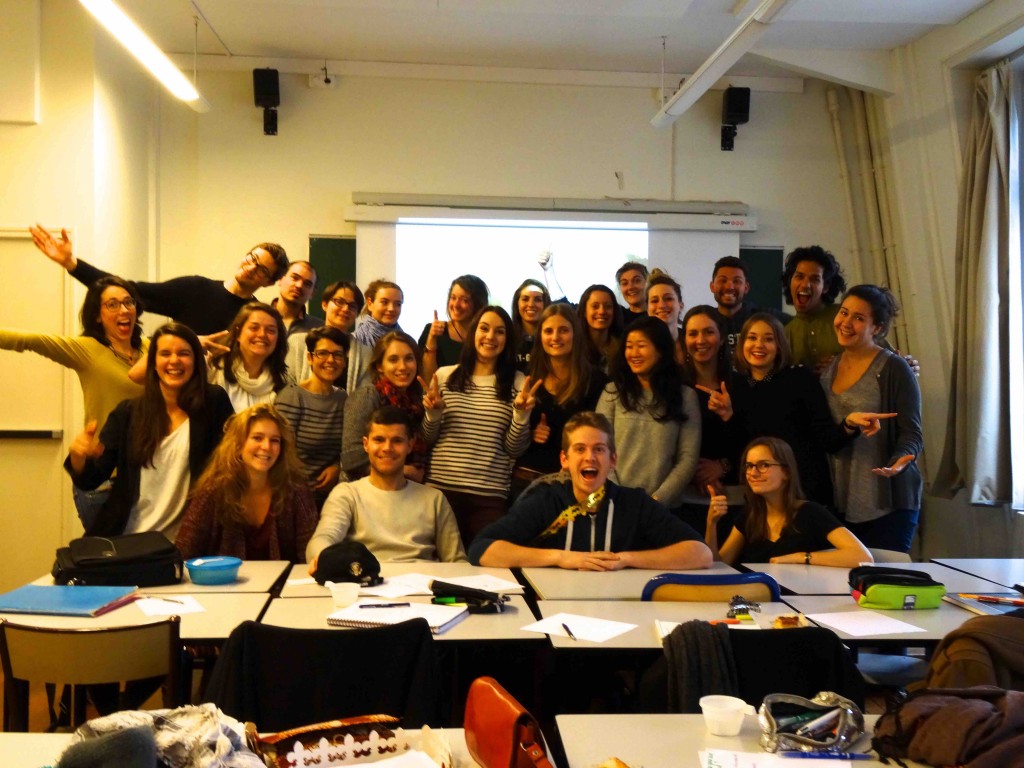 These students had a different and multidisciplinary educational background (economy, law, political science, engineers, geographers etc) and a lot of them are now working in big companies. Their challenges every day: try to convey their ideas when very often the priority of the projects they are involved in is economic profit.
By the way, during COP21, I ran into Marc and Marie, who are part of the movie « En quête de sens », released in 2015. Quoting them:
« En quête de sens is a documentary project born from an observation shared by a growing number of citizens. : our occidental society is sick, prisoner of a logic that would cause more destruction, injustices and frustrations of balance and well-being. Economic short term emergency of profit now takes the lead over the general interest in spite of common sense. »
In the meantime, the movie DVD finally arrives under te christmas tree. On December 29th, we completely filled the living room with friends and family to make the movie projection. On December 30th, I send an email to the co-director of the movie, Marc, so he can intervene with me during that conference I was heading at the Sorbonne a week later. It became an evidence to me that his presence was essential to tackle head this last part of my presentation « working on oneselves to provide solutions » .
Marc not only accepted but the students loved what we presented them. This « environmental awareness » course was a first in this university. Hopefully the first of many !
I will wait for your comments on this article! See you very soon. 
Margaux